France is not only famous for the romantic Eiffel Tower or high class fashion, but also famous for its exquisite, rich and diverse cuisine.
---
Referring to French cuisine, we cannot help but mention the French sweet cakes with delicious taste and unique shape. Here is how to make Croissant cake – a famous French pastry, the most popular.
Croissant baking ingredients
– 500g flour
– 15g dry yeast
– 90g sugar
– 15g salt
– 300ml warm milk
– 340g butter
– 1 egg has been mixed with water
– Leavening.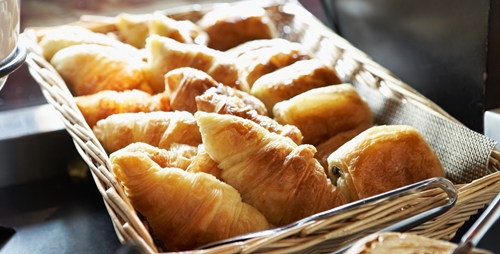 Step 1: Prepare butter
– Spread the glossy paper on the table.
– Put butter in it, continue to wrap the butter with another glossy paper.
– Flatten and roll the butter until the area is about 20x25cm.
– Pack butter in glossy paper placed in the refrigerator for a few minutes.
Step 2: Kneading dough
– Mix flour, sugar, salt, milk and yeast together. You can use a whisk to make the dough smoother. Beat until a flexible plastic powder is obtained.
– Put a layer of dry powder on a European bowl and pour the flour in and wrap it with a clean towel for about 1.5-2 hours, so remember that the longer you cook it, the better it will be.
Step 3: Roll the dough
– The dough is smooth and thin.
– Take out butter in the middle of the flour mixture.
– Roll the dough with butter and then roll it flat, wrap this mixture with glossy paper and put in the refrigerator.
– After 25-30 minutes, take out the mixture and roll it evenly … put it in the refrigerator for 30 minutes.
– Repeat this step one more time.
This step is a bit long, but don't be discouraged because this is a very important step.
Step 4: Divide the dough
– Take the powder mixture into 2 parts.
– Apply a layer of dry powder to the rolled surface and continue rolling.
– You roll your hands evenly until the piece is about 0.5 cm thick.
– Carefully cut the thin layer into a long rectangle then divide the rectangles into triangles depending on the size you want.
– Roll the pieces of triangle powder again, bend the dough to shape the horn.
Step 5: Baking cake
– Preheat the oven to 300 degrees Celsius.
– Put the cake in the tray, use the broom to sweep the puree mixture on the cake.
– Bake cake for 15-18 minutes until the cake is blooming and has a nice golden brown color.
Croissant is very suitable for use with butter, cheese, … there. Or you can change with different kinds of kernels!
Wish you all success with this Croissant making!