The magnificent architectural works, the long-standing Western European culture, a particular language of strange charm. These are the images often mentioned when we talk about France.
---
However, it would be flawed not to mention the world's most exquisite cuisine. For the French people, the food is not merely that, above all it is art.
Ingredients:
2 pieces of lamb chops
4 small potatoes
1 small ginger, several cloves of garlic
1 tablespoon lemon juice
1 tbsp olive oil
2 tbsp of honey
2 tbsp of soy sauce
1 pinch of dried rosemary
3 tbsp of French wine
How to make lamb chops with French wine sauce:
– Handling the smell of lamb: thaw and wash the lamb with white wine, get a towel or tissue to dry the meat before marinating. This step you should do very carefully, otherwise, the lamb will smell and be difficult to eat.
– Marinate any spices: You mince ginger and garlic, put the lamb in a large bowl and mix all wine, lemon juice, olive oil, honey, soy sauce, and rosemary. Then, cover the bowl, or cover the mouth with plastic.
– You put in the refrigerator to marinate at least 2 hours. A little tip is that you can marinate meat in the morning to cook for dinner.
– For potatoes: You have to wash and cut into 4 parts.
– Turn on the oven at a temperature of 250 degrees
– Put potatoes and lamb in a baking tray lined with foil, spread a layer of olive oil on the meat
– Let the oven set at 250 for about the first 8 minutes, then lower it to 150 and continue baking for another 15 minutes. You should take the time to adjust the oven temperature offline. This helps to prevent the meat from becoming dehydrated, not burning or drying during baking.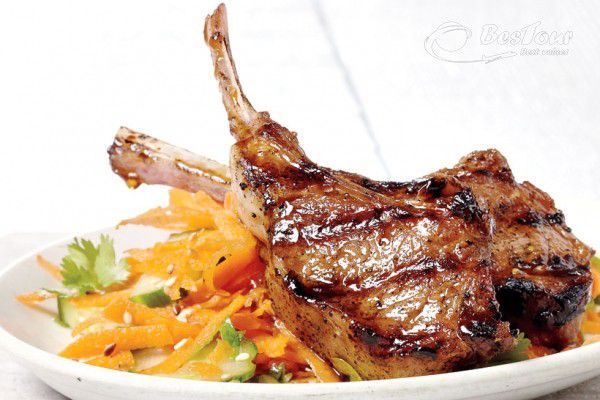 Finished the food, it is not too picky and difficult to implement, isn't it? Lamb ribs with French wine sauce can be served with boiled asparagus or sliced ​​boiled chayote. Hopefully, through the article, you will succeed in this dish of lamb ribs in French style wine sauce.